RH Puts The Freeze On Food Waste with Recycle Devon

Want to know how to reduce your food waste? Our latest campaign with Recycle Devon can help you do just that!
To encourage residents in Devon to reduce food waste by making the most out of their fridge or freezer, RH is running an incentivised campaign where residents have the opportunity to receive a Free Love Food Hate Waste box full of helpful tools, tips and tricks on how to prevent food waste by solving an interactive puzzle.
This bespoke puzzle can be solved by clicking on the tiles, which contain imagery of regularly stored food items, and sliding them into the correct order they should be stored in the fridge. Not only is the puzzle informative but it also provides an additional opportunity for measurable engagement, which can be utilised by Recycle Devon to calculate the approx. tonnage of food being removed from the waste disposal system.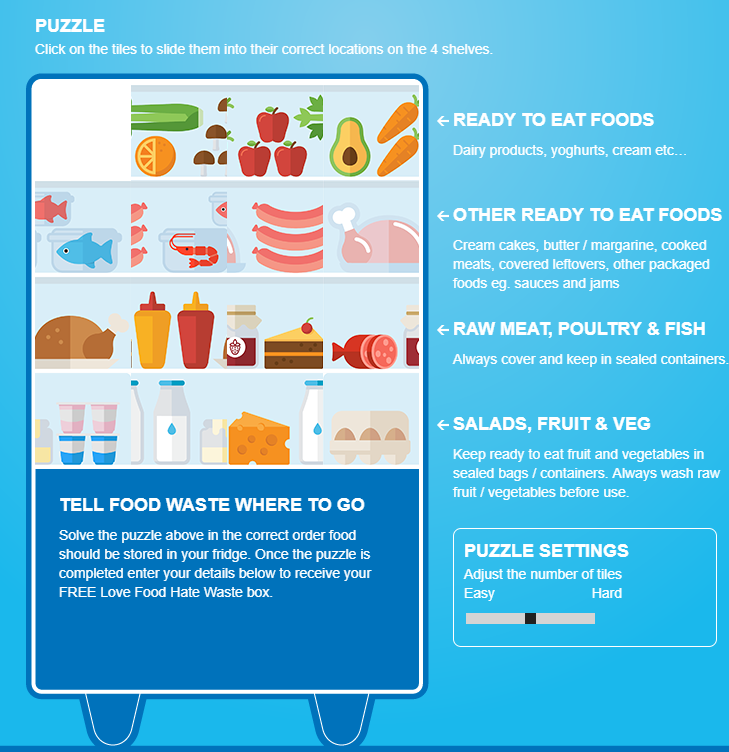 The campaign features three short films rewinding the decaying of potatoes, strawberries and bread and enjoys a cross-channel approach, using a combination of radio, strategically placed 6 sheets in the county as well as digital activity to encourage the residents to try and solve the "Big Chill challenge" and save a massive £700 a year.
The campaign is running until the end of October so why not visit Recycle Devon and tell food waste where to go!
https://www.rhadvertising.co.uk/wp-content/uploads/2017/12/visitwiltshire-autumn.jpg
1285
2000
eleanor
https://www.rhadvertising.co.uk/wp-content/uploads/rh-web-logo-1.png
eleanor
2017-10-18 17:10:14
2018-09-26 12:46:17
RH Puts The Freeze On Food Waste with Recycle Devon